Ron Dell: 15/09/1940 - 2/02/2014


Take a look at some of Ron's wonderful work at Teston
Bridge Country Park where he started the very popular
family-friendly kite events and ran them for many years.
Please support

Isabel Hospice

+
Originally Ron was accompanied by Pat, and when she passed away he still kept coming.
Latterly, we were delighted to see Tina with him, who shares his joy of kites and looked
after him so well. Tina, we will always love you for that.
Ron would have been touched by how many people came say "Farewell" -
See Here
Please visit the old Kiteability website - now known as "The Teston Kite Family" site:
I hope the following words show why he is loved so much:
Kiteability Odd Odes
The GOGs have been there many times & always had fun, even when there was no wind!
---

17th March 2015 - today we heard some happy news - one of Ron's specialty hex kites has found a new home,
well, it has gone back to the place it was meant for! Originally made for Fort Worden kite workshop in 1998.
Now it belongs to a nice lady in USA, name of Deb - also called "Kite Mother" - that would make Ron smile!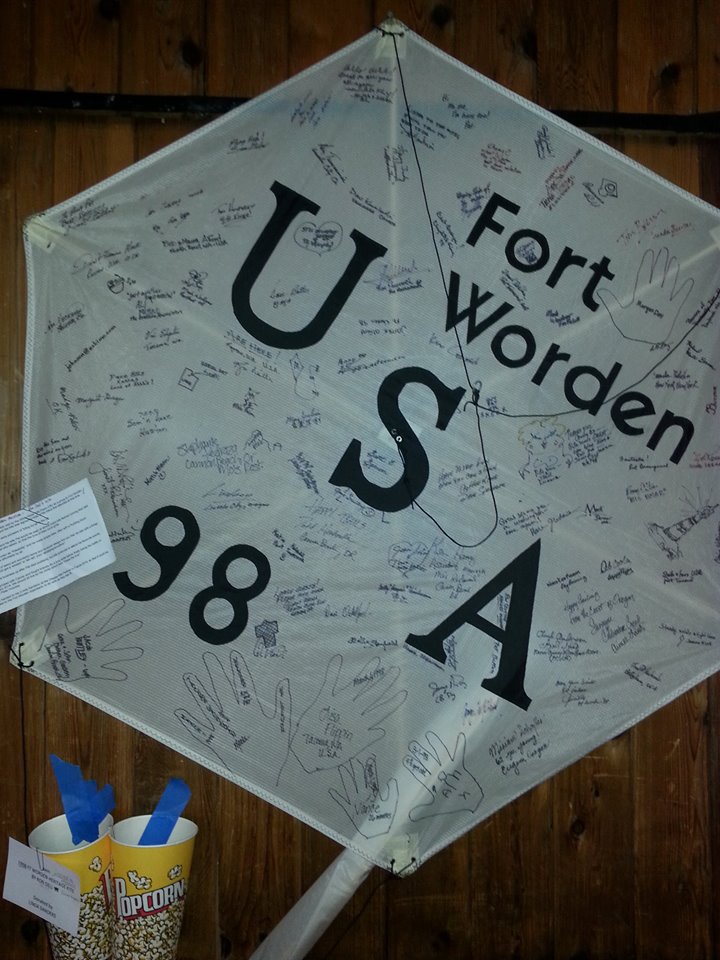 ---
Kiteability Replica Kite

(photo by Gareth Williams)

Flying on

Berck Plage


19.04.14
in memory of Ron Dell

More Berck photos

HERE



It was made in 2009 by
Paul and Helene Morgan
to the original design

Janet Arfman owns it
(Kent Kite Fliers)
---

A cherished photo of Ron at Teston in 2012 - and the very special kite he bequeathed to Dicky & Harry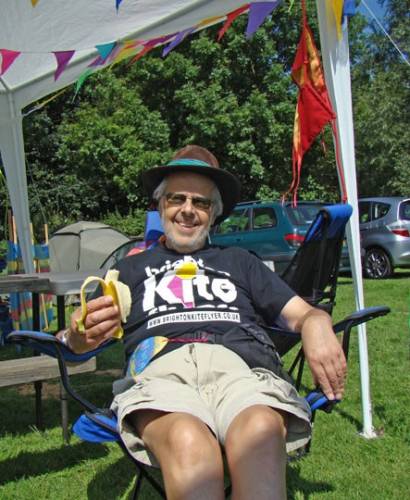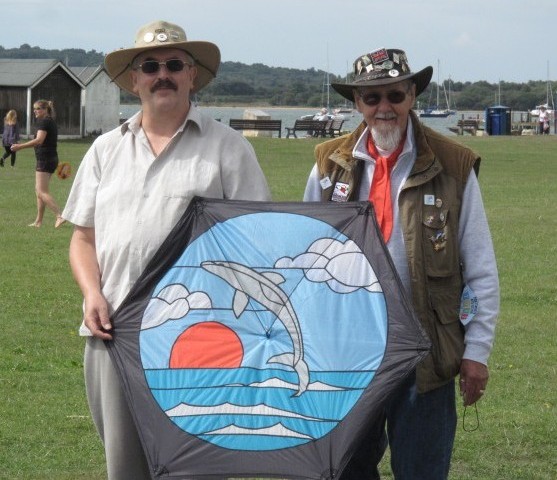 As you browse around the GOG website you will see Ron's cheerful face showing up at GOG events too.
We love him dearly - he always makes us smile - he is ever in our thoughts and hearts.
---
Keith discovered these photos taken at Petworth in 2003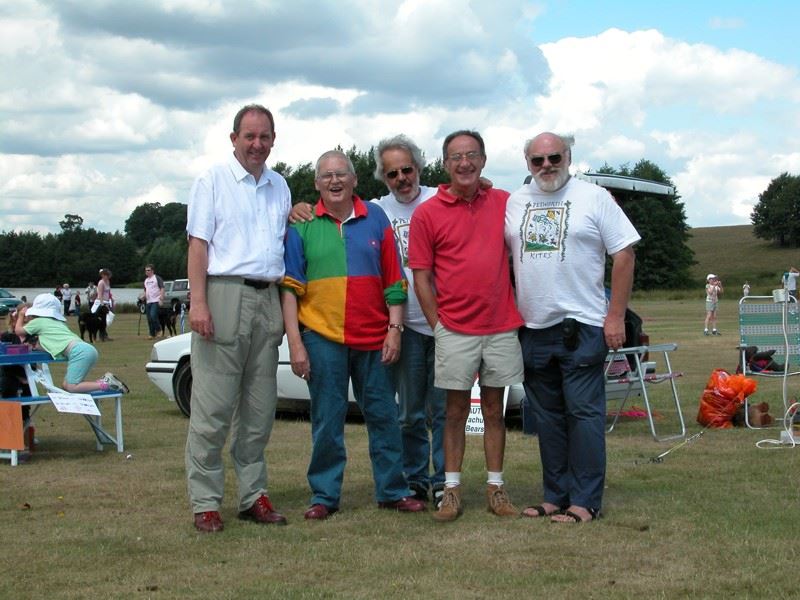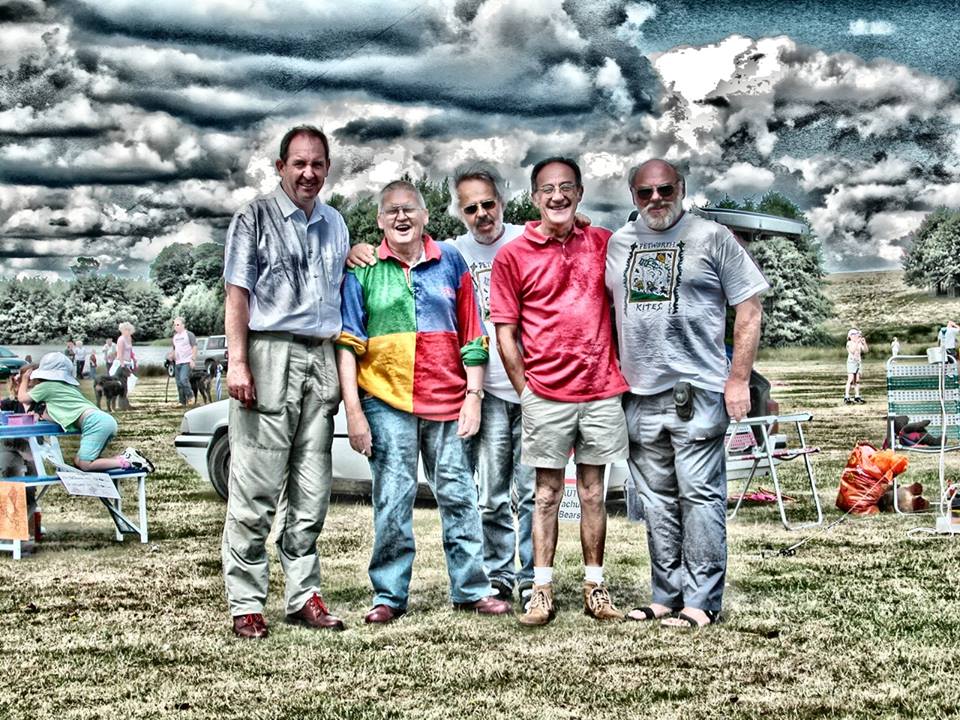 and Dicky found this precious memento from Bristol 2003 - also showing his trusty Volvo!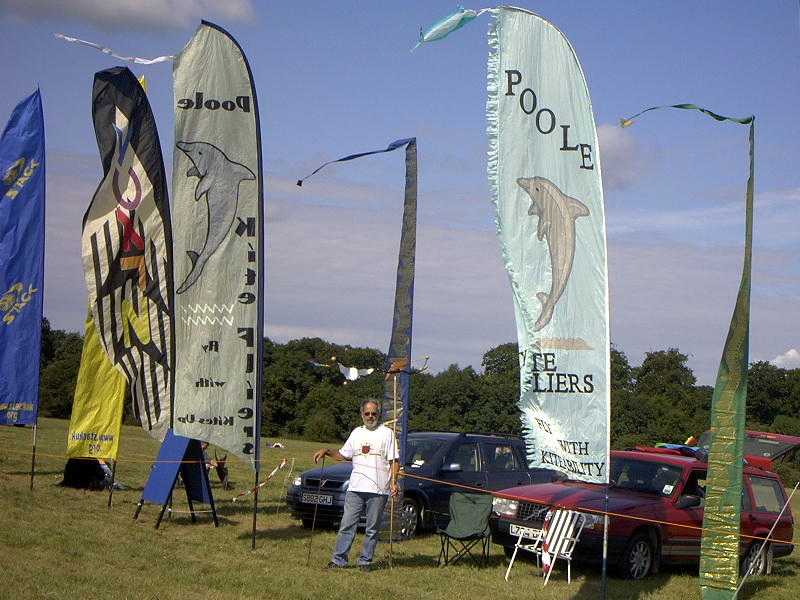 ---
This shot was taken at Teston in 2006, showing Ron helping with yet another kite rescue!
Whenever a kite gets stuck in that infamous "kite-eating tree" we remember Ron in this pose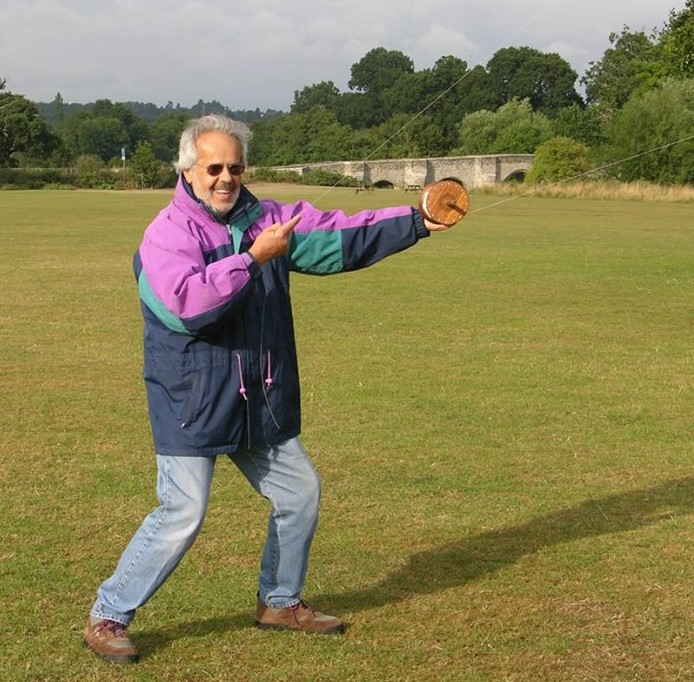 Here is Ron with Keith (GOG) and Jane, doing the rounds at Teston, collecting camping fees
- rumour has it that some people would hide out of sight when they heard his little hooter!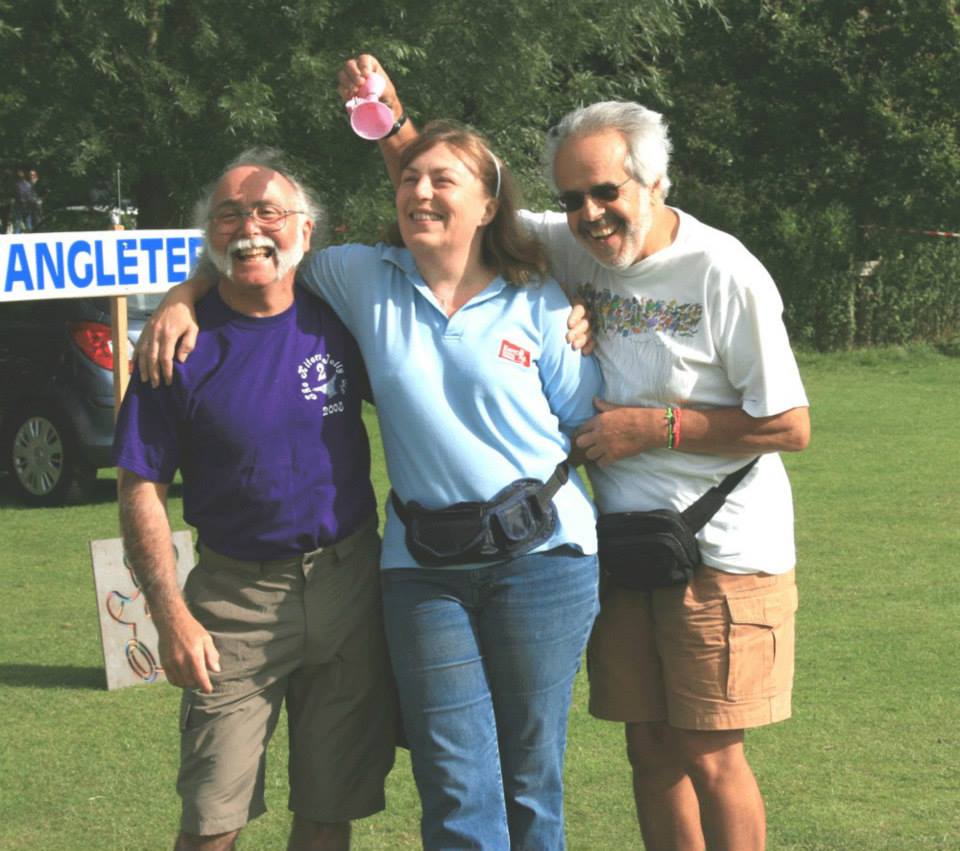 ---
Gittesden August 2010 - a previously forgotten photo of our lovely friend - more HERE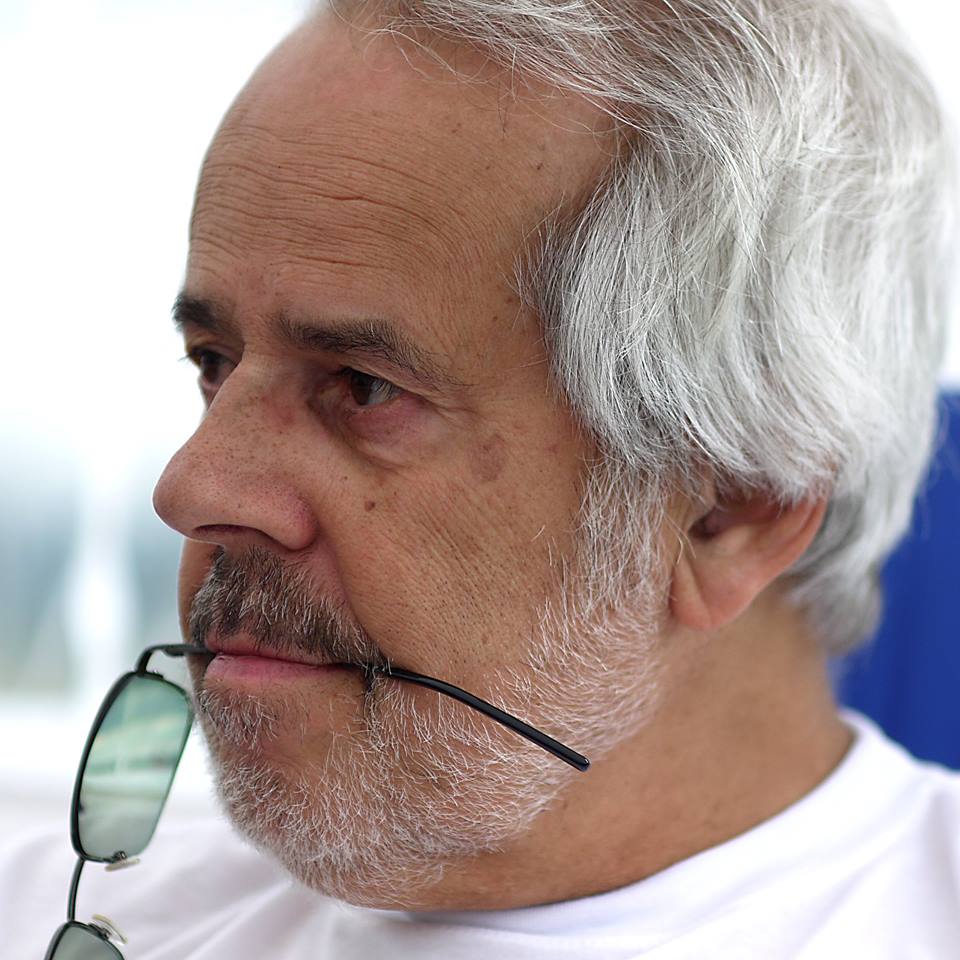 When we gathered together in February 2014, to celebrate his life, we were asked by his family
to decorate the church "so it looks just like a fly-in" - we were proud and honoured to do this
for our dear friend - the photos are HERE
---


Ron at Southsea Kite Festival in 2003

This kite was made as part of a BBC Southern Ways program
- for details please CLICK HERE

Sold at Southsea auction to raise
funds for Kings College Hospital
- for details please CLICK HERE
---
Many thanks to young Alan Cosgrove for finding & sending us this blast from the past!
It looks as if Ron & Pat just received an award for "Best Stand at Basingstoke 1997"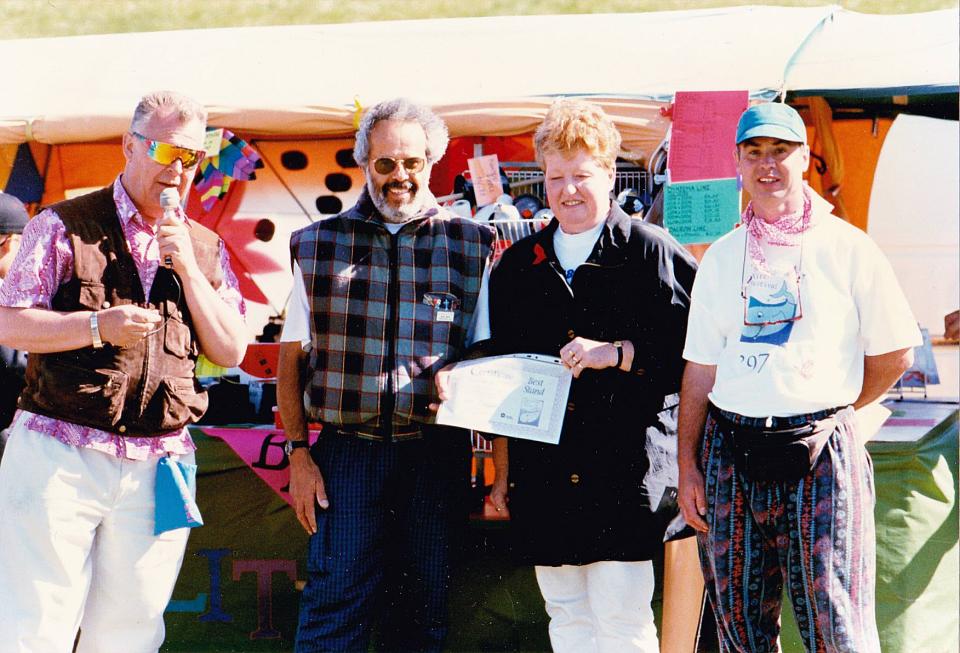 I will always treasure this letter and the goodies that came with it...